Bass and olive oil sauce, vegetable millefeuille
Paired with la Demoiselle de Sigalas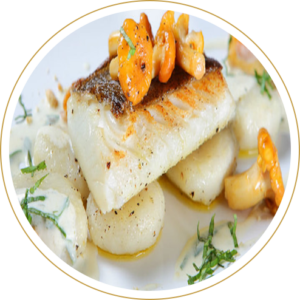 For two.
Bass Fillets with an Olive Oil Sauce
Ingredients :
300 g of bass

Olive oil

Salt

Pepper
Thyme
Steps :
Slice the bass in to fillets.
In a saucepan, heat 2 tablespoons of oil, then put in the bass fillets and cook for 2 minutes. Add salt, pepper and let simmer for another 2 minutes.
In a dish, arrange the fillets, sprinkle with thyme, and serve with an olive oil sauce.
Olive Oil Sauce
Ingredients :
15

 

cl with olive oil sauce

1/2 shallot
1/2 

garlic clove

1/2 

onion

1/2 tomato
2 black or green 

olives

1/2 dash of balsamic vinegar
2 fresh basil leaves
1 pinch of ginger powder
Steps :
Mix all the ingredients in a bowl: without peeling the shallot, garlic or onion. Deseed the tomato and cut it into small cubes. Cut the olives into slices and add 2 basil leaves.
Marinate everything in the refrigerator for at least 2 hours.
Collect shallots, garlic and onion and peel them.
Chop roughly for the preparation.
Put in a dash of balsamic vinegar and a pinch of ginger.
Chop the remaining 2 basil leaves just before serving.
Serve the cold sauce on the bass fillet.
You can keep the sauce in the fridge for several days.
Vegetable Millefeuille
Ingredients
1 

zucchini

2 

tomatoes

Pepper
Salt
Basil or

 herbes de Provence

Olive oil
Steps :
Slice zucchini and eggplant lengthwise. Brown in the oil.
Cut the tomatoes into round slices.
In a large serving bowl, arrange the slices in layers: zucchini, eggplant, tomatoes, ham, salt, pepper, basil.
Repeat the vegetable layering as many times as necessary.
Place in the oven at 180 ° C (thermostat 6), for 30 min.
Pour découvrir la totalité de notre menu "Accord Classique" ou pour notre menu "Accord Audacieux", inscrivez-vous.
Nos autres vins à découvrir
Pour nous Suivre, inscrivez-vous.