Our terroir
C
hateau

S

igalas

R

abaud

,
14 hectares, 1 Estate 

With its fourteen hectares, Château SIGALAS RABAUD is the smallest of the first growths. In the center of the estate, the Chartreuse of the 17th century, close to Château d'YQUEM, is harmoniously surrounded by the cellar and its outbuildings. Planted on a slight slope that faces south, the vines grow on the famous "Sauternes terrace" consisting of a clay subsoil covered with a gravel-sand soil deposited by the Garonne 600 000 years ago. This soil allows a perfect environment in the vineyard and provides beautiful maturations.
" Our terroir, a perfect harmony of a gist of nature and our precise dedication. "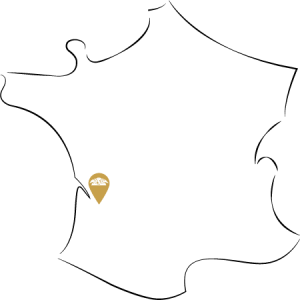 To the north-west flows the Ciron, a small river with cold waters that fosters the formation of fogs essential for the development of Botrytis cinerea.
This famous fungus allows the appearance of noble rot. The golden grapes then take on a purple color, are covered with a light white down and then shrivel. This concentration is accompanied by a multiplication of aromas and flavors in the grapes.
In addition, the vineyard, ideally oriented to the south and in height, benefits from an exposure to the wind which dries the botrytized grapes and thus allows a perfect regulation of this noble rot.
This botrytized grape is the uniqueness of the Sauternes harvest.
This harvest is necessarily manual since a selection by grape is essential to collect only the grapes known as roasted, those affected by noble rot.
As all the grapes do not reach maturity at the same time, the harvest is done in multiple passages. The season is therefore spread over several months, from September to November.
85% of the vineyard is planted with Semillon and 15% with Sauvignon, two of the great emblematic grape varieties of Sauternes. The terroir isalso enhanced by "mass selection" which consists in preserving the DNA of old vines that have been found to be remarkable. Over time, the original personality of SIGALAS wines has been maintained.
The size of this family-owned vineyard favors, throughout the season, a precise oberservation of each plot, attentive care of the vines (disbudding, leaf removal and shoot thinning) and quick decision-making if an intervention on the property seems necessary.
" In the end, This terroir is one of the little miracles that a core of faithful connoisseurs place in the Sauternes firmament "
Olivier POUSSIER – Best sommelier of the world – Wine Guide of France.