Château Sigalas Rabaud 1er cru classé 1855
Sauternes

This is a fascinating vintage; we have had to act quickly. The small surface of Sigal Rabaud allowed to save the vintage. The noble rot had to be quickly collected before a new rainfall. The Sigalas Rabaud is a team of experienced grape pickers made of the volume of the 2012, but the quality is undeniable. Five  harvests took turns at the from the 1st to the 31st October.
Blend :
86% Sémillon
14% Sauvignon Blanc
Ageing :
18 months in
French oak barrels
Oenologist :
Eric Boissenot
The fruity notes are intense, more discreetly the wine reveals floral aromas which are typical for the terroir of Sigalas Rabaud. An important freshness gives a well-balanced wine. The acidity extends the length of the finish with liveliness, inviting you to come back and taste it again and again !
Click on the image to see the recipe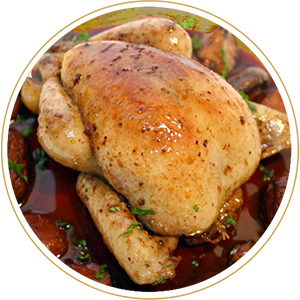 "17/20  Intense sweetness with nice balance, wonderful precision and detail. This wine doesn't have the density of the best vintages but it does have balance, harmony and freshness in a difficult vintage. "
Decanter
Pour nous Suivre, inscrivez-vous.